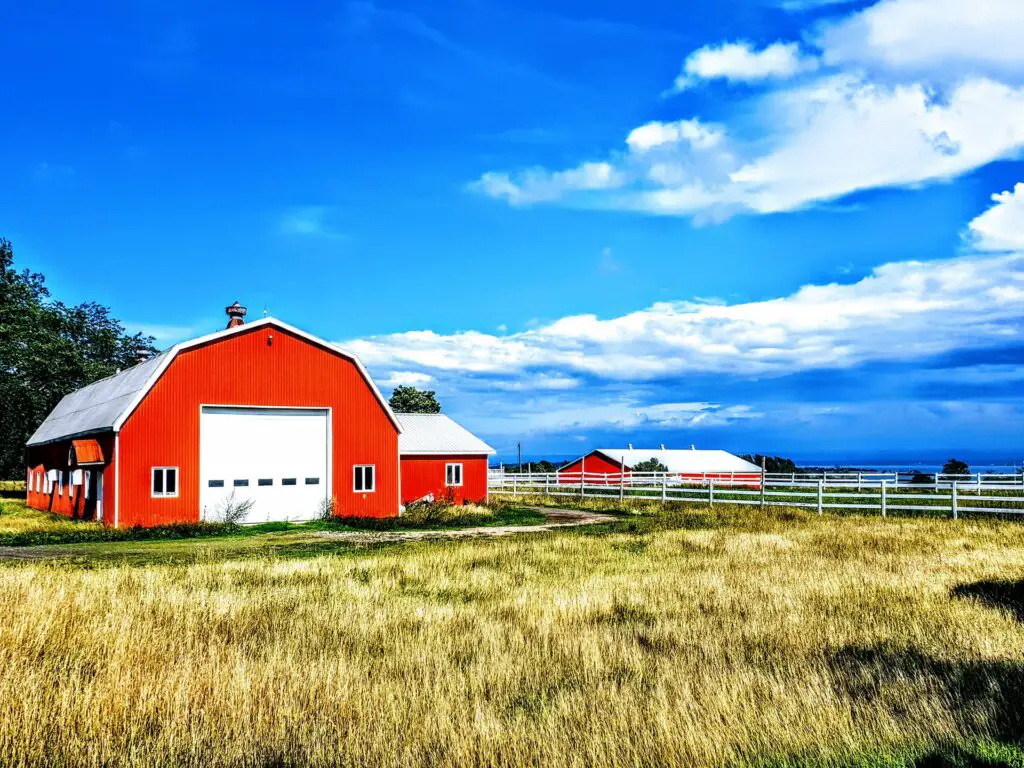 How To Buy A Farm In The UK? |

A Guide To Starting A Farming Business
In this concise guide, we take you through the process of buying a frame in the UK, funding options, and try and help you answer any questions you may have. With the current world economic and environmental challenges, people are looking for ways to live a more sustainable life, and purchasing a farm is the perfect way to achieve that.
How much money do you need to buy a farm?

 
The costs of purchasing a farm are substantial; buyers can expect to pay at least 50% more than a decade ago. The price per acre rose to £7000 during the first quarter of 2021; and will continue to grow throughout the year.
Where to start when buying a farm?
Starting your own farming business is not a straightforward task; these six tips to make the process easier:
Plan – You must know your objective and be clear about your goals
Costs – It is essential to consider your expenses from the very beginning of your planning phase. You will need to budget for building work, equipment, land purchasing, business insurance, and employers' liability insurance
Training – Farm owners do not require any mandatory training; however, it will benefit you if you have practical farming experience, a driving licence, and a qualification in agricultural working or business management that can be transferable to the farming industry
Decide on your farming business – There are many farming businesses to choose from, for example, poultry, dairy, vegetable, fruit, cereals, and pigs, so research all options and choose one that suits your skillset
Earnings – Explore how you can maintain your required gains; if you are concerned about relying on one form of income stream, explore options to diversify your business
Promote your business – Strong marketing is the key to all new businesses, so utilise all available options to connect with your ideal client. Become an expert in social media, a website, trade events, leaflets, and advertisements.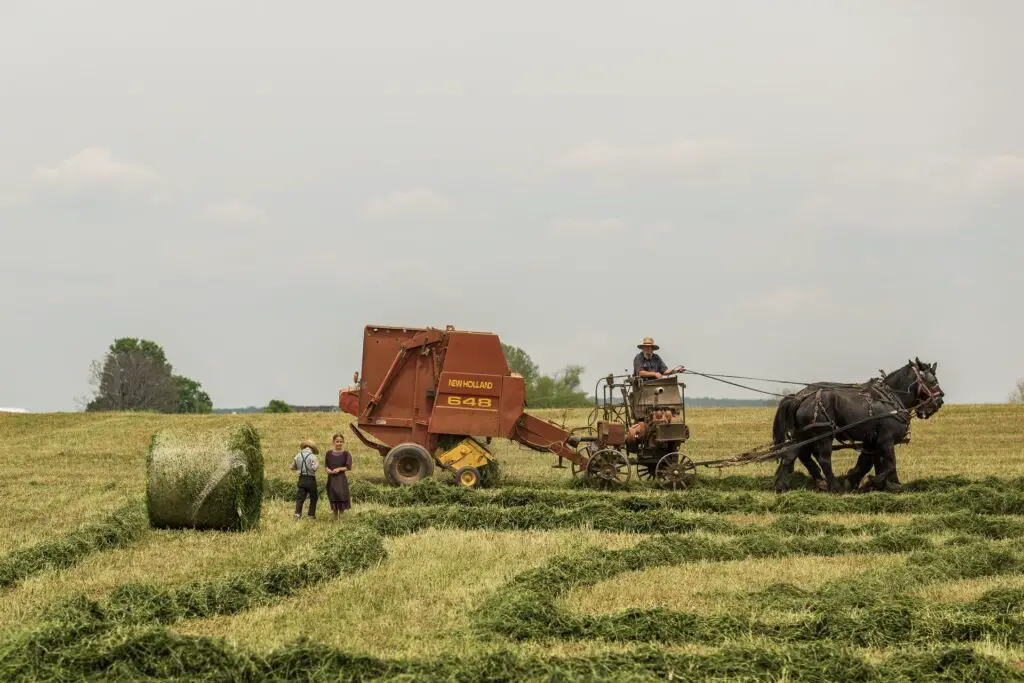 Where to look for farms for sale?
Utilising the internet is a necessary tool when searching for farms for sale. However, bear in mind that a high percentage of farm sales occur privately, meaning they will not appear in your searches. So team your internet search with the skills of a specialist farm buying agent who will know of farms due to the market and land that is available off the market. There are approximately 100,000 acres of farmland available for sale in England and Wales yearly.
When is the best time to buy a farm?
Farms traditionally come to the market during spring and early summer as this is the period that they look their best. However, finding farms for sale during the quieter second half of the farming year is possible.
How long does it take to buy a farm?
Finding a farm that meets your requirements will be a time-consuming task due to the limited number of farms that are available for sale each year. If you are lucky in your search, you could purchase a farm within six months. However, a 2 to 3-year time scale is more realistic. 
What is the role of a buying agent?
When selling or buying a farm, it is imperative to secure a highly-skilled buying agent. Accessing the service of a buying agent means that you will receive guidance on suitable farm holdings often before they even officially come to market. Buying agents can offer advice regarding food and farming consultancy, estate management, planning, building consultancy, renewables, tax, and available funding opportunities. 
Can you Buy A Farm with a Mortgage?

 
While it is possible, although harder to secure a standard mortgage to purchase a farm, it is advisable to explore a specialist Agricultural Mortgage. The issue with securing a traditional mortgage when purchasing a farm is that the lenders are unfamiliar with the market, making them nervous. An agricultural mortgage is for buying farmland, buildings and developing farming structures.
What is an Agricultural Mortgage?
An agricultural mortgage or a farm mortgage loan is a commercial mortgage specifically for farms, equestrian businesses, and agricultural businesses. To secure a farming mortgage, you must intend to farm livestock or crops. Most agricultural lands have a positive covenant that requires the land is used for farming purposes. The mortgage can help with buying land, releasing equity, and buying, extending, or renovating buildings.
Is Farmland a Good Investment?
Farming is one of the securest forms of investment with its high returns and low volatility. It has achieved better results than other investment opportunities within the last ten years. As our population rises, so will the need for high-quality food production, meaning farm assets will maintain their acquired worth.
What is the average farm size?
Farm sizes vary from region to region and by the type of farming the land is used.
North East region – The average farm size in the North East region is 144 hectares. The highest percentage of land is for cattle farming.
North West region – The average farm size in the North West region is 77 hectares. The highest percentage of land is for the production of milk.
Yorkshire and the Humber region – The average farm size in the Yorkshire and the Humber region is 93 hectares. The highest percentage of land is for pig meat.
East Midlands region – The average farm size in the East Midlands region is 102 hectares. The highest percentage of land is for poultry meat.
West Midlands region – The average farm size in the West Midlands region is 67 hectares. The highest percentage of land is for the production of milk.
East of England region – The average farm size in the East of England region is 121 hectares. The highest percentage of land is for wheat.
South East region – The average farm size in the South East region is 86 hectares. The highest percentage of land is for fruit.
South West region – The average farm size in the South West region is 68 hectares. The highest percentage of land is for the production of milk.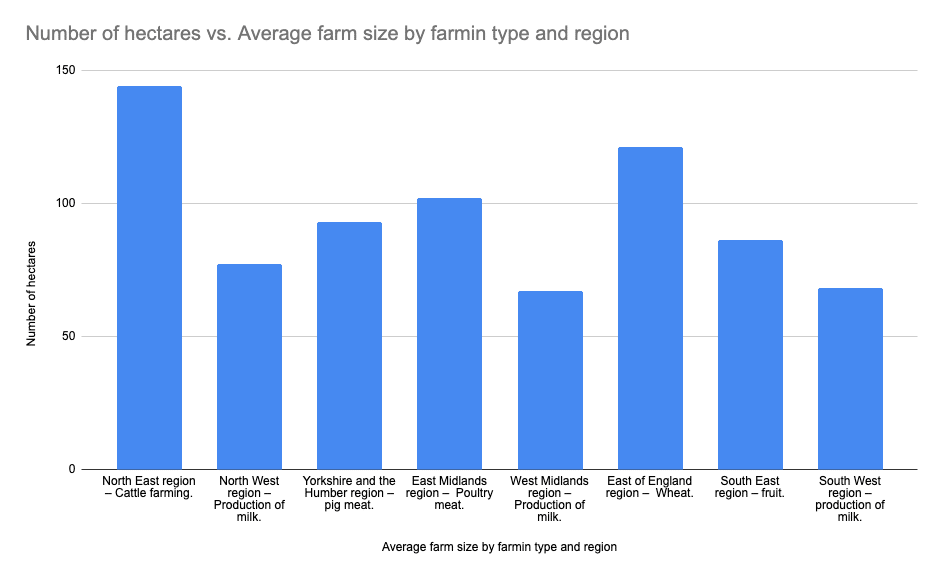 How Much Can You Earn as a Farmer?
A farmer's income depends on several variables, particularly the type of farm business. Here is a list of average income earnings as per farming business: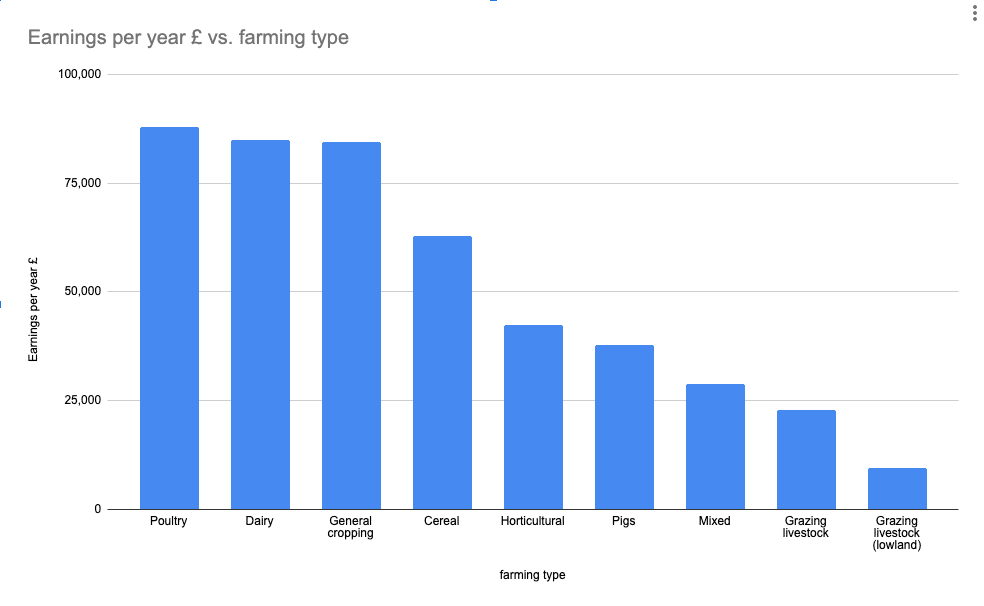 Poultry – £87,900
Dairy – £84,800
General cropping – £84,400
Cereal – £62,800
Horticultural – £42,400
Pigs – £37,700
Mixed – £28,900
Grazing livestock – £22,800
Grazing livestock (lowland) – £9,400
As you can see, there is a vast difference in potential earnings between farm types.
Renting or Buying Farmland
Renting farmland is a less daunting process than purchasing land. As a tenant, you can secure a long tenancy giving you and your business that added security. For people new to the farming industry, buying a farm can be pretty scary due to the enormous capital investment required to start. There are limited options for tenanted farmland in the UK. Still, when they do become available, they are quickly snapped up by keen new farmers. To secure a Full Agricultural Tenancy (FAT), you will pay in the region of £177 per hectare or £222 per hectare for a Farm Business Tenancy (FBT). Check out our post on renting farmland.
How much does it cost to start a farm UK?
The cost to start a farm in the UK will vary greatly on your location, size, and product. Over the years, the start-up cost has grown due to the increase in land and machinery costs. To start a small scale farm, you would need approximately £10,000; included in your start-up costs are:
Lands costs – Your land costs will depend on buying or renting farmland and will be your most significant expense. Ensure you carefully choose your plot size and location, as this will be the main pricing factor.  If you are interested in how much you should pay for land you might be interested in our article here: How To Value Land In The UK 
Machinery costs – Only buy machinery you know you will use as it costs a lot of money. Other options are renting, hiring a contractor, or buying used equipment; this will reduce the initial outlay and reduce any maintenance costs that owning machinery entails.
Running costs – The costs of running a farm quickly add up. You should consider insurance, electricity, vehicle costs, maintenance, taxes, animals, feed, fuel, seeds, fertilisers, insecticide, growing equipment and wages.
Farm Grants and Government Funding Programmes
Starting a farming business requires a sizable investment. Luckily, there are Government and private grants and funding programmes available to help with these costs. To access one of the available grants and funding programmes, you must have a business plan to demonstrate how you will use the money to grow your business. Farmers can use the funds for:
Upgrades and improvements
Energy efficiency
Reducing environmental impact
Wages
Livestock
Farm equipment
Building improvements
Research and development
Purchasing a new farm
Accessing funding could help your new farming business succeed and get further than the developmental stage where many new businesses fail. You could apply for:
Basic Payment Scheme (BPS) – This is a yearly scheme you apply for between March and May, with payments starting in December. It is for support within the farming industry.
Countryside Productivity Scheme – This scheme is available to farms within England that require help in improving productivity and in creating jobs.
Rural Development Programme for England (RDPE) – This scheme helps improve agriculture, the environment and rural life.
RDPE Growth Programme – This scheme provides grants to improve rural economies and create jobs.
Check out the Funding Database to see what funding programs are available to you. You can see the UK government web page on grants and funding for farming here.