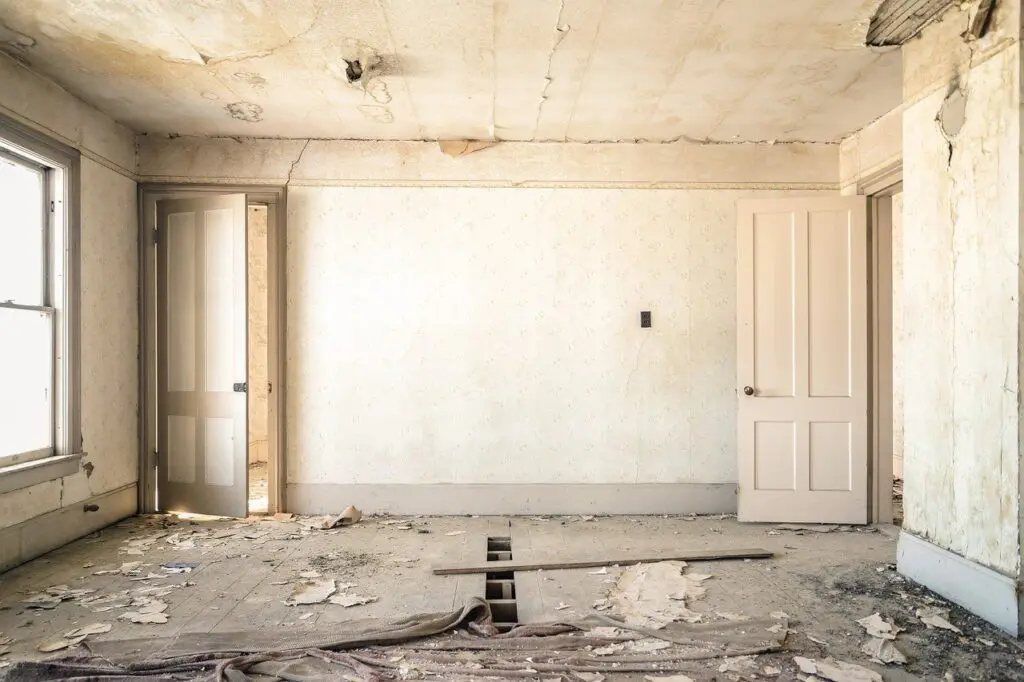 Does Decorating A House Add Value?
Painting and decorating a house can add value and is one of the cheapest and simplest ways to add value quickly. With an average property increasing in value by 5-10%, just by improving its cosmetic appearance. However, this is only applicable if the property is either rundown or outdated.
Also, if you're happy to do the work yourself, you can save money on painting and decorating, also further increasing the value of the work done. However, this depends on how much your time is worth and your skill level.
Estate agents or property valuers may find it a challenge to pinpoint a precise number on how much your property has increased in value, as this can be very subjective and depend on many variables like local buyer demand and the overall condition of the neighbouring houses.   
Remember, if you're not aiming to sell too quickly, you can always start with a higher price and go down if needed. 
If the property is outdated or looks tired, then it is definitely worth decorating a house before selling. However, if the house is looking clean and fresh, then there is property little need to invest much time and effort into cosmetic improvements as it won't add much value. Just think, is there anything simple that can be done to improve first impressions to any potential buyers?
If you are not sure if your house needs decorating before selling, ask a local estate agent or a local interior designer to give you their advice. Or if you are thinking about renovating a house you may want to look at our article on: Houses In Need Of Renovation
What Colours Should I Paint a House for Selling?
If you are painting your house to sell, it's recommended to paint the house in light colours like; white, light beige, or cream. This will help increase light and perceived space and give any potential buyer a blank canvas to work with.
Choosing the right colours can make a massive difference to the look and feel of a property to any potential buyers. Most potential buyers will want to add their own touch when they move into their new home, so it's important not to add any strong/dark colours. This is because strong/dark colours can be quite a personal preference; they can also make a property feel dark and less spacious.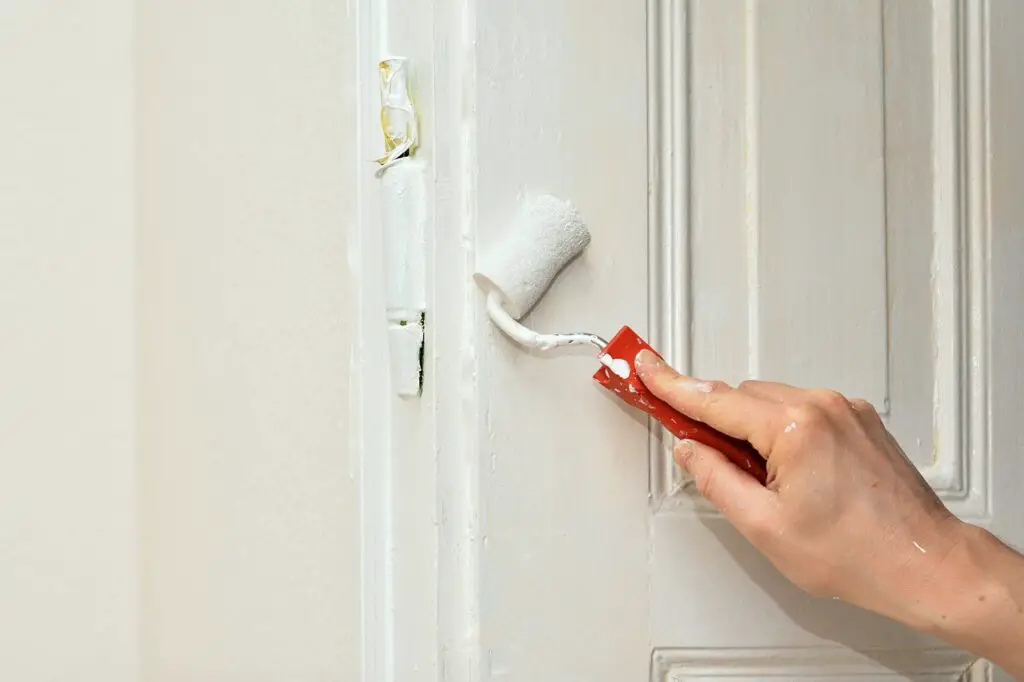 Where Do I Start when Decorating My House to Sell?
If you are planning on using contractors, then try to get a few quotes to get a good idea of the local rate and to ensure you're getting the best deal.
If you want to decorate your house yourself, then follow these steps: 
1. Decide on A Colour Scheme
Keep things simple when deciding on a colour scheme to paint your house for sale. Try to stick to no more than 2-3 colours maximum, and try to stick to light colours like white, light beige, or cream. 
2. Make a Shopping List (What Do I Need To Decorate A House to sell?)
Paint. How much paint will I need to buy? As a general rule of thumb, you buy 1liter of paint for every 6.5 square meters of wall. To measure how many square meters of wall you need to paint and then divide it by 6.5, which should give you an idea of how many litres to buy. Also, remember if painting a ceiling to use ceiling paint and not wall paint, as it sticks better and makes less mess.
Filler and sandpaper. Check the walls for any holes that need to be filled. Filling holes with a filler or putty and then sanding it smooth before you start painting normally give you the best finish. 
Brushes, Rollers, extension poles, etc. Decide where and what you are going to paint before, so then you will have an idea of what types of brushes or rollers you will need. Rollers are great for walls and painting large areas fast. In contrast, smaller paintbrushes are better for painting skirting boards and tight spots. If you are planning to paint up high or doing the ceiling, you may want to order a paintbrush or roller extension to give you extra reach.  
Masking tape/old newspaper. It's a good idea to mask off areas like skirting boards, trims, windows, tiles, fireplaces, and areas where you're using different paint or want a nice clean line. Old newspapers can be a good choice when covering things like radiators.
Sheets/old clothes. Whenever you are painting a house, you inevitability need to protect things from getting covered in paint, so covering things in old blankets and wearing old clothes can prevent frustration later on.
Steamer and scraper. If you need to remove wallpaper, then you might want to get a steamer and scraper, although this can be a long job and best avoided if possible.
If you don't have a hardware shop near you B&Q does home delivery.
3. Repair the Wall if Needed. 
Systematically inspect the walls for any damage that can be filled and sanded before you begin painting.
4. Tape Off and Protect.
Remove any shelves, socket cover, artwork, etc. Tape off anything that needs taping off, like windows, trims, tiles, etc. Cover furniture or anything you want to protect with old blankets.     
5. Paint the Ceiling.
Start by painting the ceiling; remember it's essential to use ceiling paint, not wall paint. You might need an extension attachment or a ladder. 
6. Paint the Walls.
Start with a small paintbrush around the ceiling and tight areas. Try and then use a roller for the walls.
7. Allow Time to Dry.
Allow enough time to dry before adding any additional coats. Also, allow time to dry before replaying shelves, power outlet covers, shelving, and artwork.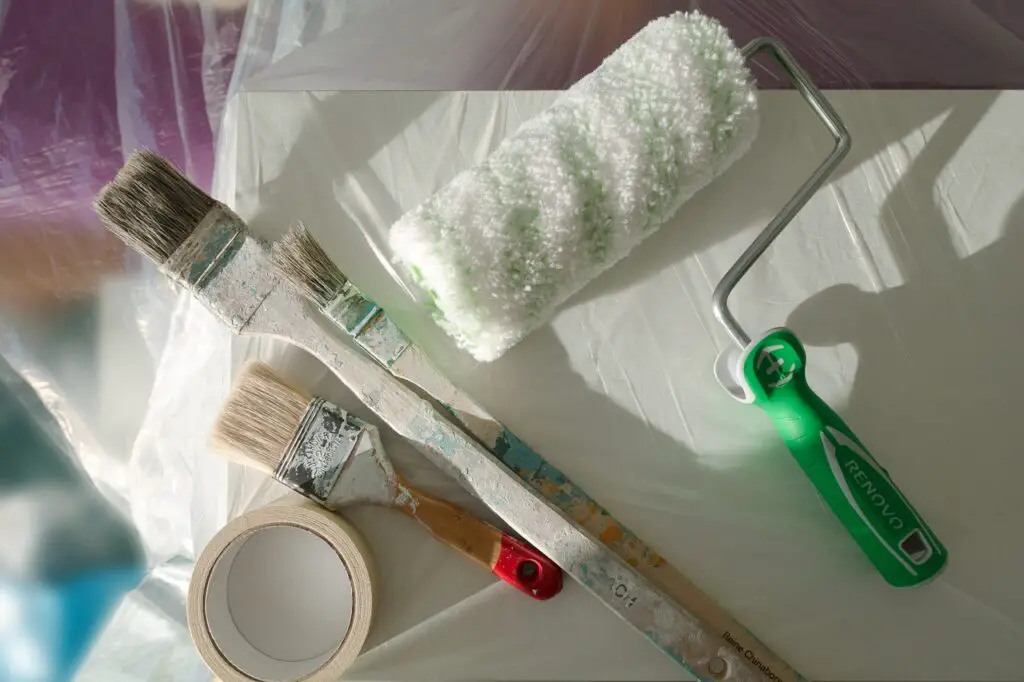 How Do You Decorate a House On A Tight Budget?
Decorating a house if you do it yourself can be a great way to add value to a house on a tight budget. However, all the small expenses can add up. 
Tips on how to renovate a house on a tight budget
Ask a friend/neighbour. Many people buy paintbrushes and other house decorating materials and only ever use them once. So have an ask around and see if anyone has anything they can lend you.
Facebook Market Place/Freecycle. It's amazing what people give away on Facebook Market Place and Freecycle. Put a wanted post out here and see if anyone can help.
Look for discounts. Hunt for a bargain on the paint and brushes, often brands sell off cheap last year's colours.
Is It Worth Decorating a House Before Selling
Simply put, it is pretty much always worth decorating a house before selling. Basic decorating costs are relatively minimal, but it will likely add a large amount of value to the property. it's amazing what a coat of paint can do to a property.
If you are on a tight budget you may want to take a look at our article on: Can You Get A Mortgage To Renovate A Property?  Or if you are looking at renovating a derelict property, you may want to look at our post on: Renovating A Derelict Property