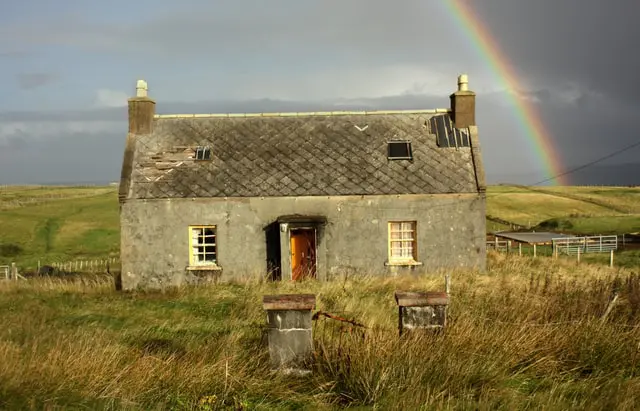 How to Find out Who Owns a Derelict Property
Most derelict properties in the UK are registered with the Land Registry. If you are intending to buy a derelict or abandoned property and have been unable to find out about who owns the derelict property you are interested in, this article can help you with information and point you in the right direction for assistance.
What Is Derelict Property?
There are thousands of derelict properties in the UK. Some have been abandoned by their owners due to debt. Many have been repossessed by banks and building societies and others have been empty for years when owners have died and no relatives have been traced.
A property is deemed to be derelict when it is in such a state of disrepair that it is not fit for habitation. Some derelict properties have fallen into disuse when neighbourhoods have changed. There are whole streets in some of the larger previously industrial cities that are classed as derelict.
Local councils usually own this type of derelict property and some are up for sale at peppercorn prices although the sale comes with a caveat that the property must be renovated to a liveable standard and kept for five years.
Is Derelict Property a Good Investment?
Buying a derelict house or flay can be a good property investment idea but in some respects it is no different to buying a 'normal' property. Location of the property is important so make sure it is near to shops, schools and has transport links. Check out the value of similar properties in the area so that you can estimate the resale value after renovation.
Some properties will require planning permission especially if you are changing the use. Therefore, if you are buying a derelict barn or church, it is important to make sure that you can get permission to change it into a dwelling.
Property Ownership FAQ
What Is The Definition Of A Derelict Building?
A building is classed as derelict when it has been abandoned by the owner(s) and is falling into ruin. Signs of a derelict building are boarded up windows, overgrown gardens, rubbish on the surrounding land and vermin.
How Do I Do A Land Registry Search For Derelict Properties?
You can search the Land Registry either by address or location. If the property is registered you will receive details of the ownership, the boundaries, any rights of way, whether it is freehold or leasehold and whether there is any outstanding mortgage or other charge.
Will My Local Council Have A List Of Derelict Properties?
All local councils have a list of empty properties and this includes those categorised as derelict. You can access this information by sending in a written request to the council.
What Are the Advantages and Disadvantages to Buying Derelict Property?
There are pros and cons to buying derelict property. One of the main advantages is the low price. Many large properties in need of substantial rebuilding or renovation can be purchased at low prices. So, it is possible to buy a much larger and older building for the same amount you would spend on a small contemporary house.
There can be pitfalls associated with buying derelict property and it is important to be realistic about a renovation project. If there are serious structural problems or issues with access to the property, things can go wrong. You should ensure that you have the financial means and budget available to complete the renovation. Equally important is to have enough patience to see the project through.
Finding Derelict Property
There are currently thousands of properties in the UK that are derelict but finding the right one is not simple. If you know which area in which you want to buy you can start by contacting local estate agents and going on their mailing list. Properties in need of serious renovation are not necessarily advertised by estate agents and you may get lucky simply by asking.
Local newspapers may have private adverts and there are usually details of forthcoming auctions which will feature derelict properties. In addition, there are several websites which specialise in finding derelict or abandoned properties as well as local councils which will also have a list of derelict properties in the area.
Contacting the Local Council About Derelict Property
If you have seen a derelict property and want to find out who owns it you can make contact with the local council. All councils employ an Empty Property Officer who deals with securing derelict or abandoned properties. Once a property has been empty for 6 months, the officer can make an Empty Dwelling Management Order which enables them to take over the property and allows it to be occupied by tenants if the building is habitable.
How Do I Find out Who Owns a Derelict Property?
The owner of any derelict property is responsible for ensuring that it is safe and not a danger to anyone entering. However, sometimes it is not always obvious who does own the property. The local council holds a list of all unregistered derelict properties and their previous owners but due to data protection, they may be unable to advise you about previous ownership.
If you want to find out who owns a particular property and the council is unable to help you can begin your own investigations. Talking to nearby neighbours may yield some information especially if they have been living there for many years. You can also check the gov.uk website and request a list of derelict or abandoned properties that have been reported by the public.
Making a search of the Land Registry may not reveal ownership of a derelict property but can give some clues about the surrounding boundaries. Looking on the local electoral roll will give you details about previous inhabitants and this can also help in your search for the current owner. You can also check if any planning permission has been previously sort and who placed the request.
All land and property in the UK is deemed to be owned by someone even if it is not registered. If you have tried the Land Registry, nearby neighbours, the local council and the electoral roll and still have no clue who owns a derelict property you could try engaging a private investigator to make a professional search through old records.